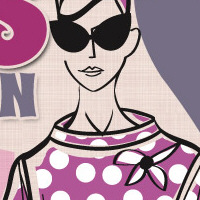 Fashion trends are constantly in flux. What's here today…is gone in about five minutes. And sometimes, what everybody was wearing twenty years ago can return in the blink of an eye. (We're looking at you, '80s.) But fashion isn't nearly as random as you may think. There's a strong thread of history running through everything you wear.
That's why PrimetimeClothing.com has created this infographic on 100 Years of Women's Fashion. They have gone through the last hundred years to see what emerged in each decade. It's fun to see what trends hold up and what disappeared pretty quickly. But it's especially illuminating to match the fashion trends with their time and to see how fashion was impacted by the social changes going on in the world. Fashion holds up a mirror to our society, and you can see the world changing with every new trend.
[Click image for full size version]

Co-founder and Vice President of
SearchRank
, responsible for many of the day to day operations of the company. She is also founder of
The Arizona Builders' Zone
, a construction / home improvement portal. Follow
+Irma Wallace
on Google + as well as
Twitter
.