Entertainment Industry Infographics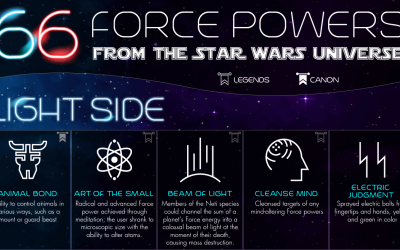 What is the Force? In the Star Wars epic space saga, the Force was a powerful, mystifying energy field that is present in all beings, creating a bond that connects all in the universe. While the Force was within all beings, only a few had the innate ability to tap into the raw power of the Force and shape it to their will. This infographic explores 66 Force powers that these Force-sensitive individuals may be able to achieve depending on their level of focus, skill, emotional state, and background. 
read more
Search 10,900+ Infographics!
Browse Archives By Category